I'm sitting here trying to wrap my brain around this blog post.  I wrote it on March 12, knowing it would be sitting in the queue when my turn came up to post it, which turned out to be yesterday, April 17.  The title is the original title.  Much of the body, save this paragraph, is original.  Our country just doesn't feel the same as the  March 12 country I originally was blogging in.  Since then we witnessed an act of domestic terror, again.  The Boston Marathon bombing jilted everything that felt level and balanced into different focus.  A shift that feels significant, like we shouldn't miss it or gloss over it or forget it.  However, I know from experience that after the horror of the dust and flame settles we will inevitably return to some version of normal.  Some of us sooner, much sooner, than others.  But in our post 9/11 world we recognize that for most of us, normal returns until the next jilt of disbelief shatters it.  Despite that, my thoughts I'd blogged in March still ring true to my heart.  Love wins.  All we had to do was view the horrible, repeating, difficult images in the news, and watch the courageous run TOWARD the plume of smoke to see that it is true.  Love shows up in the form of courageous acts done by everyday people. Fred Rogers, my voice of childhood wisdom and guidance until my teenage cousin told me he was nerdy, was right on with his mother's perspective: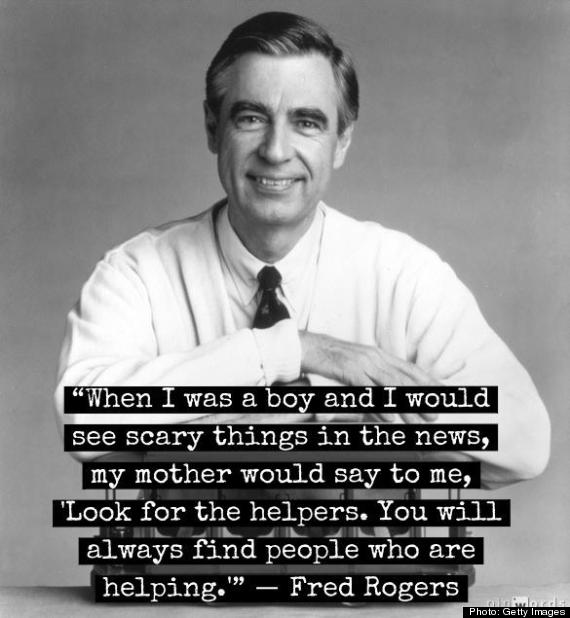 My cousin was wrong about Mr. Rogers, he is STILL a rockstar to me!
So here is my original blog post, I think it matters now even more than it did when I wrote it.
There is an author whose blog we both follow.  Kendra told me I'd love it.  I do…. SO.VERY.MUCH.  Her blog is titled "Momastery".  You won't waste your time there.  Glennon, the author, does not waste our time.  She is honest, transparent (painfully), loving, fierce and my favorite person I've never met.  Besides the thousands of people that read her blog posts,drinking in each word  like their first morning cup of coffee, she is gaining big attention for her "Love Flash Mobs".  These occur when someone's story gets into her heart like a pebble in her shoe and she can't ignore it for the brutiful (her word) pain it causes. She finds a way to love on that person in a real way and her followers (Monkees) take over.  During this "Love Flash Mob" the rules are simple.  You can contribute up to $25.00 per person. No more. Last week $85,000 dollars were raised in 6 hours to house and support a homeless teen and her new baby.  Her last flash mob sent a large family with a mom facing terminal cancer on their first ever vacation, complete with photographer to capture the memories. Wow!
The concept has been working my brain over since I read about it last week.  So much can be done, by many normal people, giving very little, in a small amount of time.   When we all work together with love as our motivator, lives can be changed.  It seems overwhelming when we try to make big change happen by ourselves.  Yet as a mob all working together, we can affect big change.
I think about the small things I can do.  Give $25.00.  Pick up a teen walking in the rain to his fast food job, my son's friend years ago, and give him a ride while telling him I'm proud of the changes he wants to make in his life.  The kids you feed, spontaneously, on any given day.  The extra time you spend scratching your child's back at bedtime.  Praying with, and for, your family. Extending grace to someone again, knowing you'll need it too.  Taking coffee to a friend.  Making time for your husband.  Am I making big change?  It sure doesn't feel like it, but I have to trust that thinking outside of myself makes big change in me.  It has to be the start of something better than the other option, self-centered living.  I have to intentionally work at, each day, SEEING  those opportunities that are all around me to love someone better.
I love Glennon's definition of Momastery:
where we practice living bigger, bolder & truer on this earth. where we remember what we already know: we can do hard things, LOVE WINS,  and we belong to each other.
Hear that?  Love wins.
-Sister Sledge (Kristin)
We are donating $15.00 of each LOVE WINS heart pendant sold to the Boston Marathon Victim's Fund.  Click the photo above if you'd like to purchase one.